Development of the education profile in the face of the challenges of contemporary sports physiology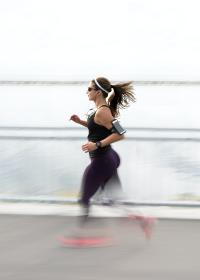 Dr inż. Monika Petelczyc will lead a didactic project aimed at "developing an interdisciplinary educational profile in the field of biomedical engineering and medical physics in the face of the challenges of modern sports physiology". The project will be financed by the Initiative of Excellence program WUT Research University.
The report of the consulting company Deloitte, "Sports Retail Study 2020. Findings from a Central European consumer survey", shows that three-quarters of Poles declare practicing at least one sport discipline. The representative data of professional sport are confirmed, among others, by the data, which comes from the Statistics Poland (the latest for 2019), in which the players (registration in sports organizations and declarations of participation in competition) indicated over 757 thousand people, another 90 thousand are training staff and sports judges. In conclusion, these findings suggest that the interest in physical activity in Polish society is enormous: hence the motivation for developing the education profile of students devoted to the techniques of monitoring physical activity and testing exercise tolerance. It is also a topic that goes beyond the research of healthy people, as rehabilitation and medical diagnostics also use solutions used in sports.
The proposed project is to launch a development path focused on educating specialists to measure physiological variables recorded during exercise, also controlled. The offer includes preparing a measurement base in the form of an interdisciplinary laboratory and two dedicated courses in the project-based learning system. Students will gain fundamental knowledge of exercise physiology and measurement techniques included in the gold standard of aerobic fitness. Measurement solutions that do not require invasive methods will be the didactic foundations with references to case studies. Students in the last stage of education will implement individualized, typically experimental projects. An open laboratory will introduce the topic of monitoring physical activity into the education process in the future. During the Project realization, apart from the course classes, new diploma theses will be proposed, the summer internship offer (for master students) will be open and other students activities are welcome.
The presented didactic proposal is primarily addressed to students of Medical Physics and Biomedical Engineering, but it does not limit the availability for students of other specialties and departments of study.
Students interested in the new education profile are cordially invited to attend classes in the next academic year (registration in the USOS system is obligatory!)
Biophysical foundations of physical effort (in Polish, winter semeter)
Laboratory of physical exercise tests (in Polish, summer semester)